interesting information about White desert Egypt
The location of the white desert :
The white desert is a national park that covers an area of 300 square kilometers in the Farafra depression, 45 km north of the town of Qsar El Farafra. It is part of the Farafra Oasis in the New Valley Governorate. It is famous for its white chalk rock formations that have been shaped by the wind and sand into forms that resemble giant mushrooms, pebbles, or animals. The white desert is also home to various wildlife, such as gazelles, sheep, jackals, foxes, and sand cats
-White desert was declared as a notional park on 2002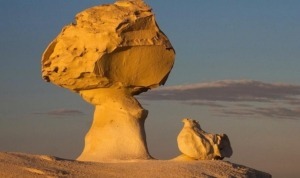 The white desert is a popular destination for adventure travelers who want to experience an alien landscape that changes color with the sun and the moon. The best time to visit the white desert is from October to February, when the weather is cooler and less windy. Visitors can camp overnight in the park, but they need to pay a fee and have a permit from the tourist police. The park can be reached by car or by joining a safari tour from Cairo or other nearby towns.
Some of the attractions in the white desert include:
– The Crystal Mountain: a large rock made entirely of quartz with a hole through its middle. It is located beside the main road 24 km north of Naqb As Sillim, the main pass that leads into and out of the Farafra depression
– The Twin Peaks: two flat-topped mountains that are a key navigation point for travelers. They offer a spectacular view of the surrounding hills that look like giant ant-hills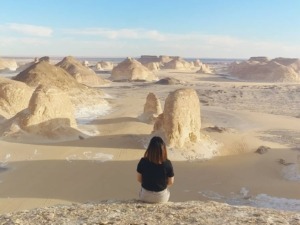 – The White Canyon: a canyon with white chalk towers called inselbergs that create grand boulevards of sand. It is located on the west side of the Farafra–Bahariya highway
If you willing this amazing place one day feel free to check this link here to more about the organized tours to it
https://axatours.com/wp-content/uploads/2021/04/Egypt-White-Desert-axatours-3-e1687611946194.jpg
521
780
Line
https://axatours.com/wp-content/uploads/2019/03/logo-2.png
Line
2021-04-18 13:13:47
2023-09-05 15:04:26
White Desert and Baharia oasis