Discover Tanis (the capital of the pharaohs)

For several centuries Tanis was one of the largest cities in the Delta, and became a site of great importance after the end of the New Kingdom, especially during the Late Period (747–332 BC). as it was the capital of Egypt for almost 250 years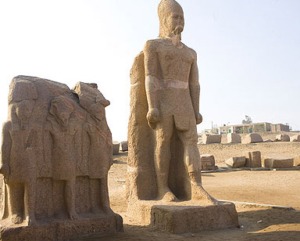 In Tanis The oldest buildings are from the time of the king Psusennes I from the 21st dynasty as he built a great wall around the Temple of Amun and his royal tomb was found in 1939, intact full of great collection of jewelry, was found in 1939 and now all of it are displayed in the Egyptian Museum. it was clear many items that was found in Tanis were taken from previous places and were reused there. after psusennes 1 the followers kings added temple to Mut, Khons and the Asiatic goddess Astarte, and the sacred lake,
The archeologist Montet was surprised when he found the stunning treasure collections of this burial chamber. next to antechamber was asilver coffin plus many other silver items, it was clear that everything was intact also through a crack in the side wall he saw gold shimmering, later he asked the Egyptian authority to put soldiers to protect the treasures in the tomb.
Tanis that was mentioned in Indiana jones movie
.
It is considered as one of the richest archeological sites with many temples and royal tombs in the same spot.
You can reach Tanis by several ways like a microbus or East Delta bus or taxi or organized tour with one of the specialist tour operators which is more recommended
Tanis is known as (the lost city)
because of its special location it became a famous commercial center during the late period of the pharaohs, but political situation was changed by the time and also, the Nile River branch has been filled with mud and was cancelled after this, that is why the importance of the capital was minimized, until the capital was totally changed to somewhere else.
you can discover Tanis and its secrets with us using this link.
a private tour.
https://axatours.com/wp-content/uploads/2023/03/tanis-axa-tours-1-1.jpg
439
377
Line
https://axatours.com/wp-content/uploads/2019/03/logo-2.png
Line
2023-03-29 14:33:49
2023-09-05 14:57:34
Tanis ( the mysterious capital of Egypt )